Archive for
October 12, 2007
Sunday, October 7, 2007
Roadside Raw Bar & Grill
1193 Duck Road
Duck, NC
On our way home, Jason and I decided we were ready for a late lunch in Duck, North Carolina.  Duck is a cute little beach town.  The little shops are adorable and the homes are charming.  Duck is similar to Corolla – a little beach town of about 500 permanent residents.  Duck, however, is actually incorporated.
We passed several places – everything was jam packed due to the jazz festival that day.  Finally, I spotted a little place that looked too interesting to pass.  Roadside Raw Bar & Grill is in what looks like a friendly little house tucked behind some bushes.  We found a parking space nearby and walked over.  The place was hopping!  Not only was it the day of the jazz festival, but Roadside was having an all-you-can-eat oyster feast.  Since the tables outside were full and we weren't there for oysters, they seated us in a little room downstairs.  It reminded me of my parents' home with the bead board and pretty books.
Everything the other diners were having when we came in looked very good, so I was a bit torn over what to order.  I finally decided on the meatloaf, mashed potatoes, and fresh veggies – only $6!  Jason ordered the prime rib sandwich with pasta salad ($8).  I was surprised when my meal came out – it was so artfully presented!  Then I started eating – yumm.  The meatloaf had real flavor – not just your standard meat, onions, and ketchup.  It was very good.  The mashed potatoes turned out to be sweet potatoes with who knows what mixed in.  Yes, I have no idea what was in those potatoes, but, boy, were they good.  The veggies (carrots, asparagus, onions) were nicely done too.
Needless to say, I was highly impressed with my meal at Roadside.  What a value!  I wouldn't hesitate to stop there again.  Neither, it seems, would this New York Times writer.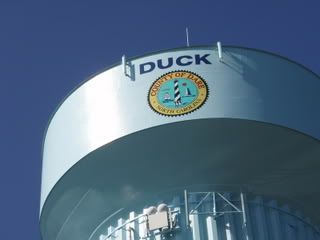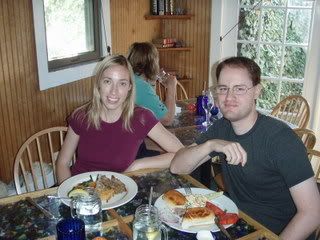 I know a few people who are planning road trips in the near future, and that got me thinking – are there any neat websites that help people plan road trips?  Sure enough, there are!
RoadTrip America provides lots of tips, some articles about various road trips, and (best of all imo) a forum.  They even have a special section of articles about FOOD!  Road trippers might also appreciate the fuel cost calculator.
Road Trip USA is another neat site.  This website offers 11 suggested routes and provides info on various stops along the way.
While some of these road trips sound good, I can think of a better one (imo): Germany's Castle Road.  From Manheim to Prague is 975 km, and there are about 70 castles and forts along the route.  I'd also have to consider Germany's Romantic Road, the Fairy Tale Road (also in Germany), or – best of all – the European Route of Brick Gothic Architecture.